Naples Red Tide
(information on Red Tide status for Collier, Lee etc. including Naples, Marco Island, Sanibel and other parts of Southwest Florida's Gulf Coast)
________________________________________
________________________________________
The above news feed trys to capture recent mentions of Red Tide in Florida from local news sources. Reporting on Red Tide does not appear to be a high priority by local media outlets even though it is high season for tourism in Southwest FL.
_________________________________________
When reviewing reports from the various links below be sure to take note of the sample date, which in some cases can be almost two weeks old.
_________________________________________
Latest Reports from NOAA* and other sources
NOAA HAB "SOS' "Red Tide Observation Interactive Map Takes a bit of time to learn to use but map is zoomable and clickable and provides test results by location and date collected. This is an excellent information source.
NOAA* Red Tide Operational Summary (updated Mondays and Thursdays)
Collier County Pollution Control (samples taken Monday and Thursday and report updated each Tuesday or Wednesday and Friday - links to the updates appear in right column) sometimes Collier misses a reporting cycle so check back frequently
Florida Fish and Wildllfe Red Tide Status (Brief mid week summary on Wednesdays with a major update each Friday afternoon - be sure to scroll down the page and look for 3 reports "Southwest coast current status report" "Southwest coast regional map" and "Southwest coast bloom boundary map" Take note of the sample dates as sometimes old data is used)
Center for Prediction of RED TIDES Click on Models - University of Florida - very technical - the map generated by this product does not include city names etc. To assist we have placed a sample map at the very bottom of this page with city/town locations superimposed.
Beach Conditions from MOTE excludes Collier - sponsored by County Tourism Boards Note: The reports are subjective (no measurements taken, just an estimate taken by volunteers) and designed to indicate to the beachgoer which beach may be more preferable to visit at a particular time. Most reports will be posted at 10 am and 3 pm local time. Beach Volunteer Reporting Guidelines e.g. "Respiratory Irritation: (may be best assessed if one closes one's eyes and listens) None: no coughing/sneezing heard in ~30 second"
FLORIDA DIVISION OF ENVIRONMENTAL PUBLIC HEALTH (Red Tide Page)
NOAA HAB Red Tide Observation System page
NOAA HAB Red Tide Information page
Weather
Wind / Wave Forecast by Windfinder This is a great site for getting a wind forecast. Wind strength and direction can play an important role in the effect of Red Tide on local areas.
NEXRAD Southwest Florida
______________________________
National Weather Service Forecasts for Southwest Florida
National Weather Service Collier County including Naples
National Weather Service Lee County including Ft Myers, Sanibel
National Weather Service Charlotte County
National Weather Service Sarasota County
National Weather Service Manatee County including Bradenton
National Weather Service Pinellas County Including St. Pete Beach, Clearwater
______________________________
Live Cams
Cams can be a good indicator of beach conditions
Hot Lines
Collier County including Naples and Marco
An automated recording with the most recent Red Tide information for Collier County is available anytime on the Red Tide Hotline at 239-252-2591.
Florida (statewide)
An automated recording with the most recent Red Tide information for the State of Florida is avilable at 866-300-9399 for calls from anywhere in Florida or for calls from outside of Florida 727-552-2448.
_________________________________________
Does cooler weather help to break up a Red Tide event?
Answer from FL Fish & Wildlife Conservation Commission: "Yes, if there is a significant cold snap that lasts for a while, contributing to water temperatures falling. However, the general temperature range for Florida red tide is about 15 to 30 degrees Celsius (or 59 to 86 degrees Fahrenheit). Since water tends to stay warmer than the air, if the cold weather only lasts a little while (or the cold isn't too cold) and water temperatures don't drop too low, there won't be an effect on the red tide." ref. http://ow.ly/d/11XS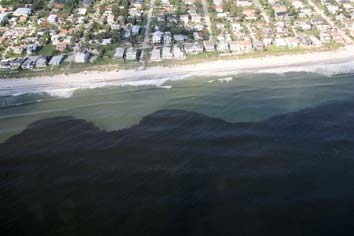 Additional Links
________________________________________________________
INDEMNITY; DISCLAIMER; LIMITATIONS OF LIABILITY
This Site is provided on AN "AS IS" AND "AS AVAILABLE" BASIS. THIS SITE MAKES NO REPRESENTATIONS OR WARRANTIES OF ANY KIND, EXPRESS OR IMPLIED, AS TO THE OPERATION OF THIS SITE OR THE INFORMATION, CONTENT, MATERIALS, OR PRODUCTS INCLUDED ON THIS SITE. YOU EXPRESSLY AGREE THAT YOUR USE OF THIS SITE IS AT YOUR SOLE RISK. EACH USER SHALL INDEMNIFY, DEFEND AND HOLD HARMLESS THIS SITE AND AFFILIATES AND THEIR RESPECTIVE OFFICERS, EMPLOYEES AND AGENTS FROM ANY AND ALL CLAIMS, DEMANDS, DAMAGES, COSTS, AND LIABILITIES INCLUDING REASONABLE ATTORNEYS' FEES WHETHER AT TRIAL OR ON APPEAL, MADE BY ANY THIRD PARTY DUE TO OR ARISING OUT OF THAT USER'S ACTS OR OMISSIONS, INCLUDING CLAIMS ARISING OUT OF THAT USER'S USE OF THIS WEBSITE; HIS OR HER SUBMISSION, POSTING OR TRANSMISSION OF CONTENT OR HIS OR HER VIOLATION OF THE TERMS. THE CONTENT PROVIDED BY THIS SITE IS FOR INFORMATION PURPOSES ONLY AND IS IN NO WAY INTENDED TO BE A SUBSTITUTE FOR MEDICAL CONSULTATION WITH A QUALIFIED HEALTH CARE PROFESSIONAL PROFESSIONAL. THIS SITE IS NOT RESPONSIBLE IN ANY CAPACITY FOR, DO NOT WARRANT AND EXPRESSLY DISCLAIM ALL LIABILITY FOR ANY CONTENT WHATSOEVER IN, AND IN PARTICULAR WITHOUT LIMITING THE FOREGOING, THE ACCURACY, COMPLETENESS, EFFECTIVENESS, QUALITY, APPEARANCE, IDEAS OR PRODUCTS, AS THE CASE MAY BE, OF OR RESULTING FROM ANY STATEMENTS, REFERENCES, ARTICLES, POSITIONS, CLAIMED DIAGNOSIS, CLAIMED POSSIBLE TREATMENTS, SERVICES OR ADVERTISING, EXPRESS OR IMPLIED, CONTAINED IN ANY DECLAIMED PUBLICATION, ALL SUCH RESPONSIBILITY BEING SOLELY THAT OF THE AUTHORS OR THE ADVERTISERS, AS THE CASE MAY BE. ALL RESPONSIBILITY AND LIABILITY FOR ANY OF THE FOREGOING FOR ANY CLAIMED INJURY OR DAMAGES TO ANY PERSON OR PROPERTY ALLEGED TO HAVE RESULTED FROM ANY OF THE FOREGOING, WHETHER BASED ON WARRANTY, CONTRACT, TORT OR ANY OTHER LEGAL THEORY AND WHETHER OR NOT ANY CLAIMANT WAS ADVISED OF THE POSSIBILITY OF SUCH DAMAGES, IS EXPRESSLY DISCLAIMED AND DENIED BY THIS SITE. FOR ANY POSSIBLE SPECIFIC MEDICAL CONDITION WHATSOEVER, ALL PERSONS SHOULD CONSULT A QUALIFIED HEALTH CARE PROFESSIONAL OF THEIR OWN CHOICE FOR ADVICE. ALWAYS CONSULT WITH YOUR PHYSICIAN OR OTHER QUALIFIED HEALTH CARE PROVIDER BEFORE EMBARKING ON A NEW TREATMENT, DIET OR FITNESS PROGRAM. YOU SHOULD NEVER DISREGARD MEDICAL ADVICE OR DELAY IN SEEKING IT BECAUSE OF SOMETHING YOU HAVE READ ON THIS SITE. THIS SITE ENCOURAGES INTERNET USERS TO BE CAREFUL WHEN USING MEDICAL INFORMATION. IF YOU ARE UNSURE ABOUT YOUR MEDICAL CONDITION, CONSULT A PHYSICIAN. THIS SITE CANNOT GUARANTEE NOR TAKE RESPONSIBILITY OR ASSUME ANY LIABILITY FOR THE CONTENT OF WEBSITES LINKED TO OUR SITE OR WEBSITES THAT THIS SITE LINKS TO. (This site provides links to other websites. This site exercises no control whatsoever over such other websites and web-based resources and is not responsible or liable for the availability thereof or the Content, advertising, products or other materials thereon. This site shall not be responsible or liable, directly or indirectly, for any damage or loss incurred or suffered by any user in connection therewith. Your access and use of linked websites, including information, material, products and services therein, is solely at your own risk.) TO THE FULL EXTENT PERMISSIBLE BY APPLICABLE LAW, THIS SITE DISCLAIMS ALL WARRANTIES, EXPRESS OR IMPLIED, INCLUDING, BUT NOT LIMITED TO, IMPLIED WARRANTIES OF MERCHANTABILITY AND FITNESS FOR A PARTICULAR PURPOSE. THIS SITE DOES NOT WARRANT THAT THIS SITE, ITS SERVERS, OR E-MAIL SENT FROM THIS SITE ARE FREE OF VIRUSES OR OTHER HARMFUL COMPONENTS. THIS SITEWILL NOT BE LIABLE FOR ANY DAMAGES OF ANY KIND ARISING FROM THE USE OF THIS SITE, INCLUDING, BUT NOT LIMITED TO DIRECT, INDIRECT, INCIDENTAL, PUNITIVE, AND CONSEQUENTIAL DAMAGES. CERTAIN STATE LAWS DO NOT ALLOW LIMITATIONS ON IMPLIED WARRANTIES OR THE EXCLUSION OR LIMITATION OF CERTAIN DAMAGES. IF THESE LAWS APPLY TO YOU, SOME OR ALL OF THE ABOVE DISCLAIMERS, EXCLUSIONS, OR LIMITATIONS MAY NOT APPLY TO YOU, AND YOU MIGHT HAVE ADDITIONAL RIGHTS.
© Copyright 2013